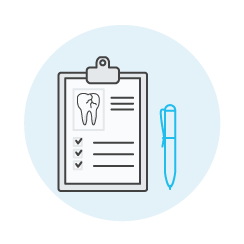 Diagnosis and Treatment Planning
We all take a map, or a cell phone with with GPS to guide us down the road, to our destination.  Most would not consider going anywhere in a car without being very familiar with the route or without some sort of a plan.  In dentistry this is what happens to many of us; we embark on our journey with no plan.  We will certainly end up somewhere, but will it be somewhere we want to be?  Perhaps, with luck, it will.  All too often though, people end up having complications throughout their lives, and in the end suffer catastrophe, losing all or most of their teeth.
The dentist often offers to "take care of you".   This conditions people to become passive and dependent on the doctor, with no ability to make decisions based on information and understanding.  You are often left to decide on dental treatments based on cost alone.
We prefer helping people follow a path of self discovery and learning.  We can empower you to take control of your health by offering a clear picture of what the condition of your mouth is, and by explaining the probable consequences of this condition and likely health future.
If this future is not suited to your goals, we can offer the benefits of treatments which can help you achieve your goals.  If you desire to change the path you are on, we can explain the treatment options available, to deliver the level of health you aspire to.
Through the empowerment of knowledge, you take control of the process.  We want to partner with you in a system where you are fully informed, where you are able to make all the decisions in your long-term care.  Trust is essential in health care, and we work hard to earn your trust, however, in order for you to get the care that is truly in your best interest, you need to be informed.  We will do whatever we can to ensure you understand the state of your health, your dental care options, and costs.  We will help you refine your goals, according to your values.
With clear explanations, easy to understand visual guides, such as photographs, models and x-rays of your teeth, videos and other learning tools, we can give you a detailed understanding of your oral health.  We will offer you a report on the appearance of your smile, the functioning of your jaw joint and muscles, the structural soundness of your teeth and the health of the gums and bone that support them.  In a friendly, non-judgmental discussion of your situation, it will become clear to you what you want changed, if anything.  Your treatment path of choice will also become clear to you.  You, in effect, become the leader of the team, communicating the level of care you desire and when you want to achieve your health goals.
We work in a multidisciplinary team, with our in-office group of doctors, hygienists, assistants, and administrators, to deliver the best possible care.  We also work with our multidisciplinary team of dental specialists, outside the office, to provide the kinds of specialty work that we do not do here.  Treatment planning is often completed as we consult with our specialists on your case.  After they have been given an outline of your plan by us, you can consult with them for specialty services, to help in achieving the plan you created.
When you need us, we'll be here. Just call us or click below "Book now" and one of our team members will contact you shortly.
1 Westmount Square, Suite 420 Westmount, Quebec H3Z 2P9
Hours: 
Monday: 7a.m. – 3p.m.
Tuesday: 7a.m. – 3p.m.
Wednesday: 7a.m. – 3p.m.
Thursday: 7a.m. – 3p.m.
Friday: 7a.m. – 3p.m.
Saturday: Closed
Sunday: Closed