We believe that teeth are for life. Human dentition is essential for whole-body health and can be maintained for a lifetime. There are many challenges to keeping your teeth for your entire life, and most do not manage this by accident. With the right plan and the proper support, we can get you there, right to the end and with your own healthy teeth and a beautiful smile. You do the work, and we will show you the way. Let's do this together.
We partner with our patients.
We partner with you to help you develop your future health choices. As a team, together, we discover and understand your oral health condition and problems, develop workable solutions, and engage with a customized plan for your optimal health and wellness.  We will never judge you or the condition of your oral health. Our goal is to help you achieve outstanding health, confidence, vitality, and longevity. This is your journey, you choose the path.
Our goal is to prevent new disease and re-disease, in the pursuit of preservation of healthy natural teeth and gums.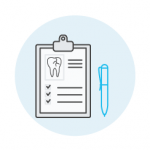 We empower you to take control of your health by offering a clear picture of what the condition of your oral health, and by explaining the likely future outcomes.
We offer a full range of services to help you with your restorative, aesthetic, and reconstructive dentistry, to make you whole again.
Meet Dr. Hamilton
"I enjoy dentistry more now than ever before. I love the technology and the thrill of providing a perfect restoration, but the most satisfaction comes to me through personal interactions and connections. We have been blessed with a wonderful group of patients that trust us with their care. This wonderful team and I will always do our best to exceed your expectations and deliver the exceptional compassionate care and service that gives you the long-term health outcomes you deserve. "
Meet Dr. Moraga
Dr. Moraga enjoys educating and thoroughly explaining all questions her patients may have about their dental procedure. She believes that prevention is the secret to good oral health, and she has no problem spending the time it takes for her patients to learn and understand. "It is an honor for me to work alongside Dr. Hamilton. Together we can achieve the highest level of patient care using the latest technology and cutting-edge innovations that are a central part of this office".
Good oral health lets you express yourself without feeling self-conscious, as well as eat and interact socially with no pain or discomfort.
Below are a few oral health tips that we hope will shed some light on various topics.
We are proud to serve you in these languages:
English, French, Spanish, Portuguese, Italian, Hungarian, Rumanian, Russian, Cantonese, Manderin, Greek, Hindu, Urdu, Tagalog, and Persian
When you need us, we'll be here. Just call us or click below "Book now" and one of our team members will contact you shortly.
1 Westmount Square, Suite 420 Westmount, Quebec H3Z 2P9
Hours: 
Monday: 7a.m. – 3p.m.
Tuesday: 7a.m. – 3p.m.
Wednesday: 7a.m. – 3p.m.
Thursday: 7a.m. – 3p.m.
Friday: 7a.m. – 3p.m.
Saturday: Closed
Sunday: Closed